Adult & Elder Caregiving
Caregivers for adults and elders often wear many hats and provide care that encompasses a broad range of responsibilities. The people we care for can be our parents, grandparents, sibling, adult children, or community members.  Caregiving responsibilities could anything from social and emotional support to taking care of day-to-day responsibilities and medical care.
No matter the level of complexity, the type of care offered, or whether you're caring for someone nearby or remotely, your caring role is important and you are not alone
---
Subscribe to the For Caregivers of Adults and Elders e-newsletter.
---
Adult & Elder Care Consultations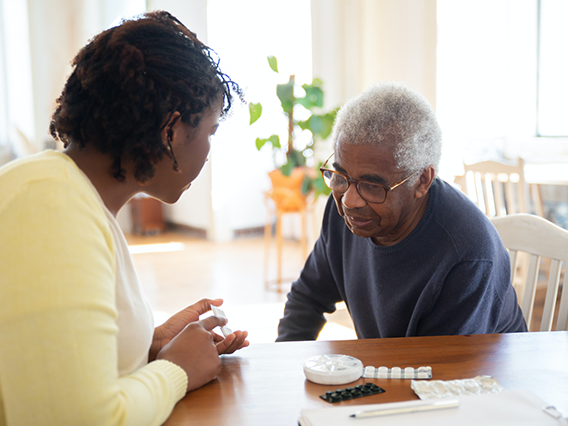 Adult and elder care consultations include a comprehensive review of your loved one's needs and a customized care plan.
Examples of Caregiving Support
Day-to-Day Support
Light housekeeping
​Transportation
​Grocery shopping
Meal planning, and preparation
Daily connection from another city or state
Physical Assistance and Support
Help with bathing and dressing, personal hygiene
Monitoring people with mobility problems
Assistance with transferring from place to place
Mental and physical activities
Coordinating in-home assistance
Health & Wellness
Medication reminders
Redirection and behavioral management
Blood pressure and insulin checks
Emotional support and companionship, in-person, virtually, or by phone
How Can Life & Work Connections Help?
Taking care of another adult can take its toll emotionally, physically, and financially. Life and Work Connections can help caregivers define their caregiving situation, provide information about services and resources available in the community and the state, and then help them determine the next steps.  
Relevant Resources
Employee Assistance Counseling
Free, confidential short-term counseling is available to all benefits-eligible employees, their dependents, and members of their households.
Get Counseling
Get access to a full staff of legal experts, unlimited phone consultations, and more.
Find Legal Resources
Relocation Research & Support